Hallmark in the News
Hallmark Healthcare of Carlinville Hosts First Annual Easter Egg Hunt at Loveless Park in Carlinville
Festivities Provide Easter Fun for Local Kids, Families, and Skilled Nursing Facility Residents
CARLINVILLE, Ill. (April 14, 2023) – Hallmark Healthcare of Carlinville, the 44-bed skilled nursing facility in Carlinville, Ill., hosted a free Easter egg hunt at Carlinville's Loveless Park on April 8 for area children, their families, and facility residents. This will be an annual tradition for the community.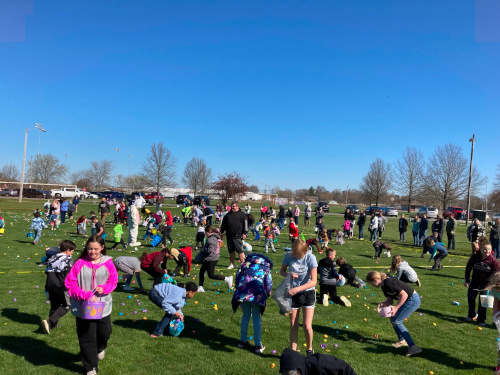 Hallmark Healthcare residents and employees spent hours filling thousands of eggs for this event, to make the egg hunt special for the large number of area children that attended. The Easter Bunny even made a special appearance to take photos with each attendee.
To mark the beginning of Spring and further enhance the celebration of Easter, Hallmark Healthcare also gave out five bicycles to lucky winners who found the golden eggs. The organization also has many other fun events planned, including:
National Skilled Nursing Care Week in May, with many fun activities scheduled May's National Nurses Week where it plans to recognize its nurses, as well as others in the local community The Macoupin County Fair in June where the facility is a sponsor and will hand out free items at its booth As part of its commitment to being a good community neighbor, Hallmark Healthcare holds events throughout the year to engage with local residents. Activities have included summer picnics, coat and school supply drives, Halloween trunk-or-treats, and holiday light displays with visits from Santa.
"We have always wanted to host local families for Easter festivities," said Suzi Robbins, CEO/Administrator of Hallmark Healthcare. "We plan on making this an annual event now that we see what a hit it was! Not only do our residents look forward to these celebrations, but they help cement the close ties between our facility and the wider community."
About Hallmark Healthcare of Carlinville Hallmark Healthcare of Carlinville is a 44-bed skilled nursing facility in Carlinville, Ill., providing long-term care, short-term care, rehabilitation, occupational therapy, physical therapy, rehab-to-home, speech therapy, hospice care, respite care and a secure memory care unit. The center is currently accepting new admissions for short-term rehabilitation and long-term care. For further information, please contact Sonnie Loschen at 217-851-0455 or visit the Hallmark website at www.hallmark-hc.com.