Hallmark in the News
Hallmark Healthcare of Carlinville Honors Suzi Robbins for Unique Approaches Required to Run Today's Healthcare Facilities
Skilled Nursing Facility Observes National Long-Term Care Administrator's Week
CARLINVILLE, Ill. (March 23, 2023) - Hallmark Healthcare of Carlinville, the 44-bed subacute and skilled nursing facility, has honored its CEO/administrator, Suzi Robbins, for her healthcare leadership during National Long-Term Care Administrator's Week, March 13-17, 2023, established by the American College of Health Care Administrators.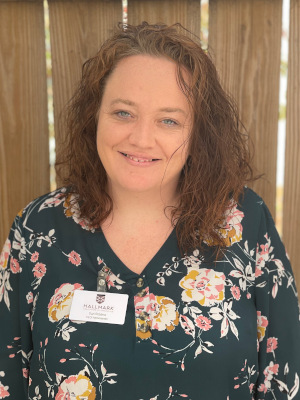 Long-Term Care Administrator's Week honors the nation's leaders of skilled nursing facilities, including Robbins of Carlinville, Ill., who have proactively led the way in adapting to evolving healthcare needs. These leaders have anticipated their facility's needs, improved outcomes, and utilized resources to provide quality services to the residents in their care.
As a successful leader in today's ever-changing healthcare landscape, Robbins has taken on unique approaches to make positive differences in their residents' and staff's lives every day. "I believe that to run a successful, resident-centered skilled nursing facility, you must remember that we are all family here," she said. "With our building being on the quaint side, only holding 44 residents, it's even more crucial to have the feeling of family evident.
"The employees, residents, and visitors all know each other on a level that you usually only get at a family reunion," Robbins added. "We are all in this together and we all look out for each other. This dynamic works like a well-oiled machine here at Hallmark. We can morph from answering a question on the phone, to cleaning up a spill in the hall. We know all our resident and staff birthdays and anniversaries and celebrate each one specially, because that's what a family does and that's what we are!"
Robbins became a skilled nursing facility CEO/administrator at the end of 2022. "I chose a career in this industry because people are my passion! It was the next step in my progression. I started out at Hallmark years ago, doing many positions, and landing on Admissions/Marketing and Social Service Director. When the CEO position came available, it just made sense to keep making the climb and become what I had always dreamed: a leader that understands what it's like to also work the trenches and that others can relate to, learn from, and be inspired by!"
Commitment to Patient Care To become an administrator, it takes commitment and dedication. Individuals often undertake a rigorous internship, followed by state and national exams. Upon becoming an administrator, they must continue lifelong learning to provide the best care possible. They are masters of multi-tasking, taking into account every aspect of a person's life – not just their medical needs – while building the sense of home and community for which Hallmark Healthcare of Carlinville is known.
Administrators wear many hats and take on numerous challenges on a daily basis. This culture of caring set by Robbins is part of what makes her leadership unique in the region's healthcare community.
About Hallmark Healthcare of Carlinville Hallmark Healthcare of Carlinville is a 44-bed skilled nursing facility in Carlinville, Ill., providing long-term care, short-term care, rehabilitation, occupational therapy, physical therapy, rehab-to-home, speech therapy, hospice care, respite care and a secure memory care unit. The center is currently accepting new admissions for short-term rehabilitation and long-term care. For further information, please contact Sonnie Loschen at 217-851-0455 or visit the Hallmark website at www.hallmark-hc.com.